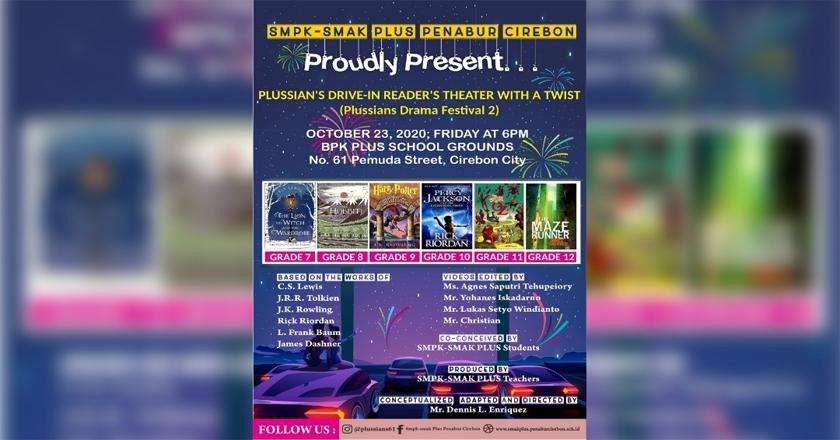 As an implementation of learning that refers to 21st century skills (Collaboration, Communication, Critical thinking, and creative thinking) SMP-SMA KRISTEN PLUS PENABUR Cirebon will hold PLUSSIANS DRAMA FESTIVAL (PDF) 2020. PDF 2020 is an English-language drama festival presented by students from each class. Stories taken from international popular stories. Some of the stories have been made into film stories. In implementing the 2020 PDF, students need literacy skills to be able to turn a story from a novel or book into a drama work.
PLUSSIANS DRAMA FESTIVAL 2020 is an annual activity that has been carried out since 2019. This year it is specially packaged according to the conditions of the Covid-19 Pandemic. The package namely readers teather. Students do reading and record online simultaneously. Then the student's work is compiled to be displayed as a student work. It takes a lot of adjustment and effort because everything is done during a pandemic, there are no face-to-face activities. Student works will be played and enjoyed by visitors (parents / students) by drive in on October 23rd , 2020 starting at 5.30 pm to 8.30 pm. The venue will be at Jl. Pemuda 61. Parents and students will enjoy class drama performances from inside the vehicle with the implementation of strict health protocols. Due to the limited parking area, the committee limited only 70 vehicles. Therefore, please immediately contact the committee so that you can order a parking area. But for those who cannot attend the venue, PLUSSIAN DRAMA FESTIVAL 2020 can still be watched through the Youtube Channel of SMAK PLUS PENABUR Cirebon. It will be broadcasted live premiere on the same date and time.
The list of stories that will appear in PLUSSIAN DRAMA FESTIVAL 2020 are:
1. Grade 7: THE LION, THE WITCH AND THE WARDROBE
2. Grade 8: THE HOBBIT
3. Grade 9: HARRY POTTER AND THE SORCER'S STONE
4. Grade 10: PERCY JACKSON AND THE LIGHTNING THIEF
5. Grade 11: THE WIZARD OF OZ
6. Grade 12: THE MAZE RUNNER
The implementation of the Covid-19 Prevention Protocol will be a priority. Therefore, all activities and preparations are carried out strictly by applying the health protocol: measuring temperature, the obligation to use a mask and / or faceshield, maintain distance, and avoid crowds. The enforcement of the health protocol will be supervised by the Covid-19 Task Force through the assistance of the presence of Satpol PP for enforcement of the Covid-19 protocol.
Thank you students for your hard work and struggles. Thank you to the parents who have supported their children to be creative in this event. Thank you to all those who have supported the PLUSSIAN DRAMA FESTIVAL 2020 event particulary to Maranatha Christian University Bandung for your assistance and support.
See you in PLUSSIAN DRAMA FESTIVAL 2020!