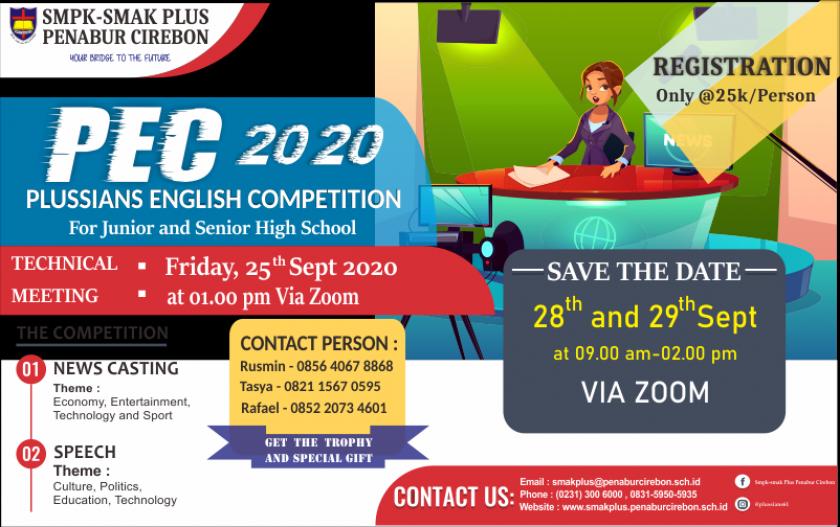 Untuk tetap memberikan wahana bagi siswa - siswi dalam mengembangkan bakat dan kreativitasnya dalam masa Pandemik Covid-19, bagi pelajar SMP dan SMA/SMK Kota Cirebon dan sekitarnya, maka kami menyelenggarakan Plussians English Competition (PEC) 2020, yang akan dilaksanakan secara Online. Untuk Ketentuan Teknis & Informasi lebih lanjut bisa dilihat pada tautan dibawah ini. Diharapkan dengan adanya acara ini, siswa - siswi dapat berpartisipasi sebagai peserta perlombaan.
For registration, email us to osis@smakplus.penaburcirebon.sch.id
SUBJECT
REGISTRATION AND PAYMENT CONFIRMATION OF PEC 2020
BODY MAIL
Registration
1. Participant's Name - Type of competition :
(1)...
(2)...
2. School Origin :
3. School Grade :
4. Phone number :
5. E-mail (for e-certificate purpose) :
Payment confirmation
Bank Name :
Bank Account Name :
Please attach the transaction proof.

(Account num : 0813213222 a/n BPK PENABUR KPS Bank artagraha)