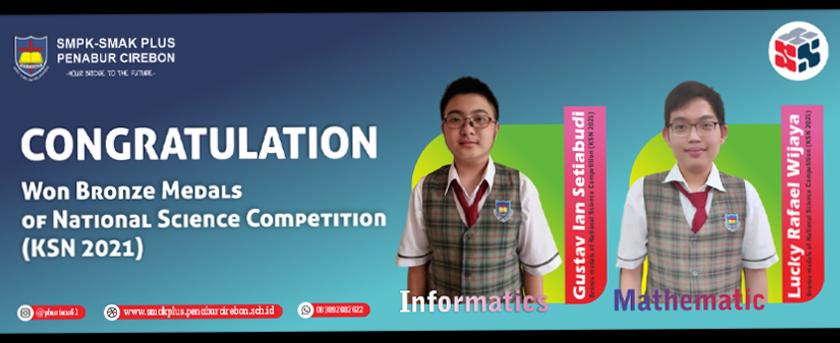 The National Science Competition 2021 (KSN 2021) event has been completed. PUSPRESNAS (National Development and Achievement Center) as the authority that represents the Ministry of Education in handling the competition has also announced the results of the most prestigious science competition on Friday, November 12, 2021. Gustav Ian Setiabudi (Student of Grade X) managed to achieve a Bronze Medal for Computer Informatics and Lucky Rafael Wijaya managed to achieve a Bronze Medal in Mathematics. It's a great achievement.
Becoming one of the best of about twenty thousand KSN 2021 participants nationally is not easy. According to Gustav Ian's explanation, he has spent almost 8 months preparing special training for this competition. Successfully passed the provincial level, he then tried to advance to the national level. He tried to devour all the previous KSN questions and also worked on the questions from platform TLX and Codeforces. A step that is certainly heavy but he managed to run.
Not much different from Gustav Ian Setiabudi, Lucky Rafael Wijaya also had to go through a steep road. He had to take part in several math competitions very often, as a way of preparing himself for KSN. That meant he had to get used to the pressure in other hand being late for other lessons. Thank God, according to him, school and the teachers provide supports and understandings.
"We make KSN as a place to shape the character of outstanding students, for example honesty, discipline, and nationalsm. I hope that the positive competitive atmosphere can be continued in schools and supported by all stakeholders to contribute in preparing the students better future," said Ubrodiyanto, Principal of SMPK - SMAK Plus PENABUR Cirebon, giving his message related to the KSN.
Lucky and Ian are now waiting for the National Training (Pelatnas) and looking at the international level of competition. They both dedicated this achievement first to their parents and family for their supports. They also dedicated the achievement to teachers and friends.
As a message, they invite all school members to continue to excel their ability and talent in their respective fields. All for the better future of ourself, society, and nation.
.
.
.
#smakpluspenaburcirebon
#penaburplusian
#bpkpenabur
#penaburcirebonid